COLD SPRING TROLLEY SIGNALS THE START OF THE VISITORS' SEASON
Here comes the Cold Spring Trolley
Taking Visitors to and from museums, hikes, and Cold Spring and Beacon Main Streets for fun, day-trip adventures.
On Saturday, June 1, neighbors, elected officials, local businesses and Vinnie Tamagna, Director of Transportation for Putnam County gathered at 9:00 a.m., at the Cold Spring Bandstand to celebrate the first Cold Spring Trolley ride of the season. The Chamber and the County both understand how important it is to increase public awareness of the Trolley and ridership. Spearheaded by the Cold Spring Area Chamber of Commerce Trolley Committee, chaired by Rebeca Ramirez and Anne McBride, a new branding campaign will be rolled out over the coming weeks to include a new logo, route map and ways to use the Trolley to enhance the Cold Spring area experience. Prominent among the approaches to better communications and increased ridership will be promotional linkages with area cultural anchors such as Magazzino Italian Art, Boscobel Home and Gardens, Manitoga: The Russel Wright Design Center, Hudson Valley Shakespeare Festival, and DIA: Beacon. In addition, the Trolley will offer increased service and visibility to Main Street shoppers and regular access to the hiking trails.
The Girl Scouts & Local Representatives, including Nancy Montgomery,
came out for the first ride of the season.
The Cold Spring Trolley stops and opens it's doors at each stop on the schedule. Anyone with can take a ride for $2.
The trolley fare costs $2 for adults and $1 for senior citizens, students, ADA, and veterans. Children 12 and under ride for free. Riders must have the exact amount, the driver cannot provide change.
Meet Tim, the Trolley Driver. He picks up and drops off riders along the trolley route. He will stop anywhere along the route if a rider pulls the bell cord. Remember to always be kind and courteous to Tim as he drives you around the area.
Ding! Ding! Pull the Bell Cord.
Riders can only get on the trolley at designated stops, however, you can request a stop anywhere along the route. To request to get off along the way, pull the bell cord and Tim, the driver, will pull over to let you off.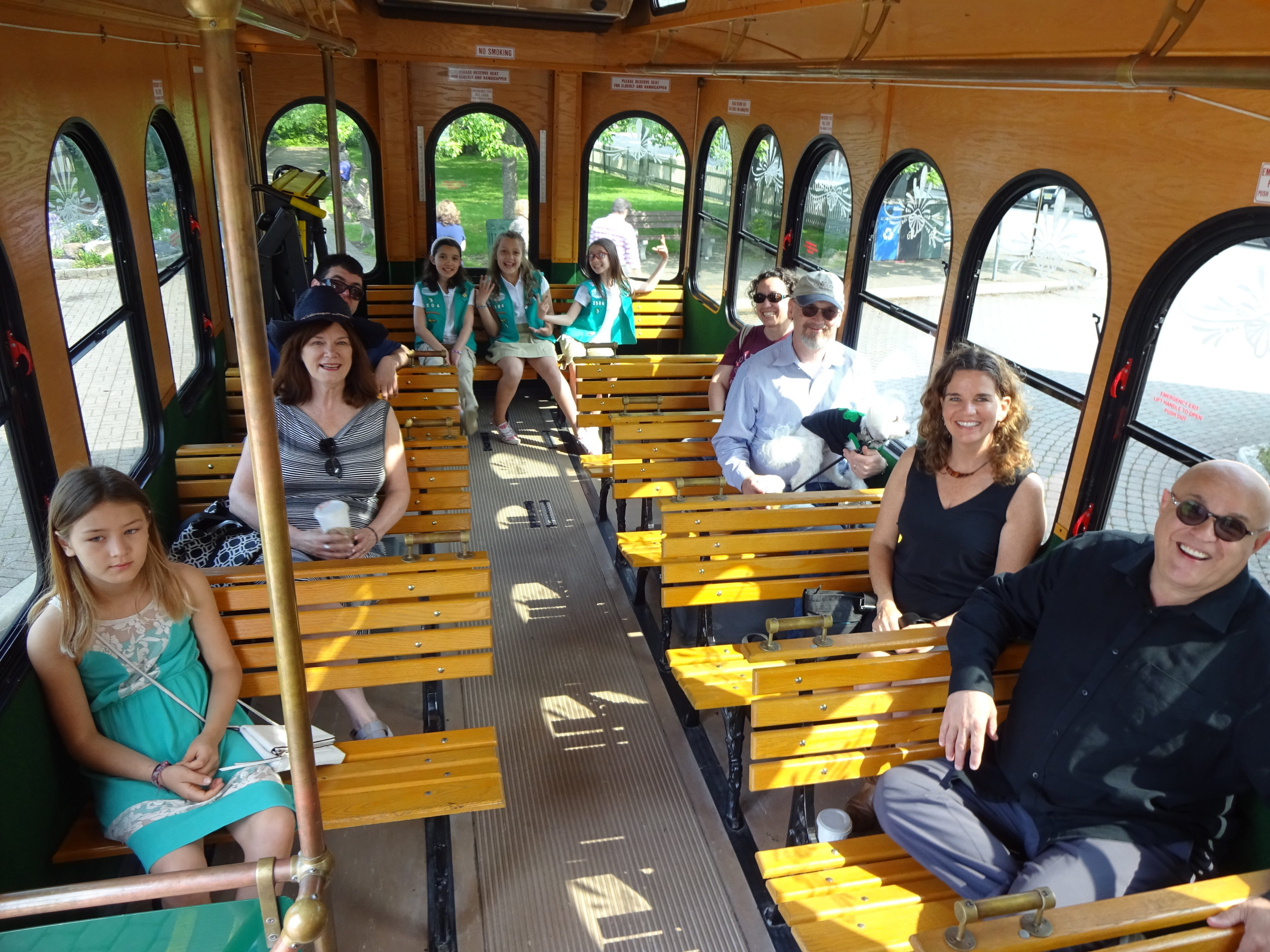 Remember to always stay seated while the Trolley is in motion. Be considerate to your trolley driver and fellow riders, and bring any refuse you bring onto the trolley off with you when you exit the trolley. We hope you enjoy your ride.